CRX-320 Golf & Sports Turf Mower
The Wessex CRX-320 is the most nimble, smooth, ground-hugging Wessex machine to date. Transform your golf course with this rough cut and fairway mower to create the best turf presentation in all weather conditions.
CRX-320 Golf & Sports Turf Mower
Our most smooth, ground-hugging and nimble golf and sports turf mower to date.
Transform your golf course with this rough cut and fairway mower. Equally, add outstanding stripes to a sports field.The CRX-320 really is an exceptional mowing experience! With full-width rollers front and rear and 3.2m wide, it produces a precision cut and an outstanding stripe. Keeping the rollers as close as possible maximises ground-contour following, with excellent floating capabilities to closely hug the undulations. The renowned CRX swing tip Gold Cut blades give you the superb cut and make for easy maintenance, while the wide-angle PTO gives you tight-turn capabilities for increased manoeuvrability. All you need is a 35hp tractor and only one spool valve, which makes it economical to operate with the simplest machinery. Simple too is the belt tension for quick and easy maintenance and the cutting height adjustment, between 10mm and 100mm, is equally straightforward. Minimal and easy-access grease points and shrouded PTO's equate to long service intervals.The CRX-320 golf and sports turf mower are made road-going with an optional highway kit for road-legal towing, so you can easily move from place to place. And with a 3-year warranty, what more could you ask for? The testimony to that is in the build quality, with 5mm steel plate decks making this mower robust and durable, and the aforementioned features that make the CRX-320 the perfect choice for maintaining your golf course or sports turf. You could even say it purrs.
Customer testimonial;
"The clippings dispersal of this machine is so good that we no longer need to use our sweeper collector on the fairways. We now have a spare man for other tasks, and we can use this as a rough-cut or fairway mower, which is fantastic."
– Leckford golf course
Looking for our range of high-performance roller mowers?
See here >
Wessex machinery is sold through our excellent dealer network. Get in touch with #TeamWessex, and we'll locate your nearest dealer and then look after you throughout your sales journey.
When only the best will do
When you purchase a Wessex product, you invest in over 55 years of innovation, manufacturing excellence and a commitment to progress that underpins the care for our customers, suppliers and employees. Since 1962 the Wessex name has been synonymous with superb quality, British built machines for the agricultural and groundcare markets. Our equipment is built for demanding applications, where reliability and durability are paramount.
Features & Benefits
FULL WIDTH ROLLERS FRONT & REAR – Precision cut and full width stripe on the turf
COMPACT ROLLER CONFIGURATION – Maximises ground contour following
EXCELLENT FLOATING CAPABILITIES – Hugs the undulations closely
CRX SWING TIP BLADES – Superb cut and easy maintenance
WIDE ANGLE PTO – Zero turn capabilities
REQUIRES ONLY 35HP TRACTOR – Economical to operate
REQUIRES ONLY ONE DOUBLE ACTING SPOOL VALVE – Complements the simplest tractor
TURF TYRES – Minimal turf compaction
OPTIONAL HIGHWAY KIT – Allows road legal towing
FINAL BELT DECK DRIVE – For ultimate driveline shock protection
SIMPLE BELT CHECK WITHOUT REMOVING THE GUARDS – Quick & easy maintenance
5MM STEEL PLATE DECKS – Robust & durable
PROLIFT – Allows simple partial deck lift for crossing paths
EASY CUTTING HEIGHT ADJUSTMENT – 10 – 110mm
BAFFLES AROUND BLADES – Even grass distribution
Specifications
Cutting width 3.2m
Overall width 3.35m
Transport width 2.1m
Approx weight 1,360kg
Cutting height range 10-110mm
No. of cutting spindles 9
Power required 35hp+
Options
PROMULCHER BLADES
As the grass clippings flow over the blades they are thoroughly lacerated on the serrated up-turn. This enhances the decomposition process of the clippings.
GOLDCUT BLADES
Zone hardened precision blades fitted as standard.
PRO-LIFT KIT
Partial deck lift for crossing paths, headland turns and cross-cut.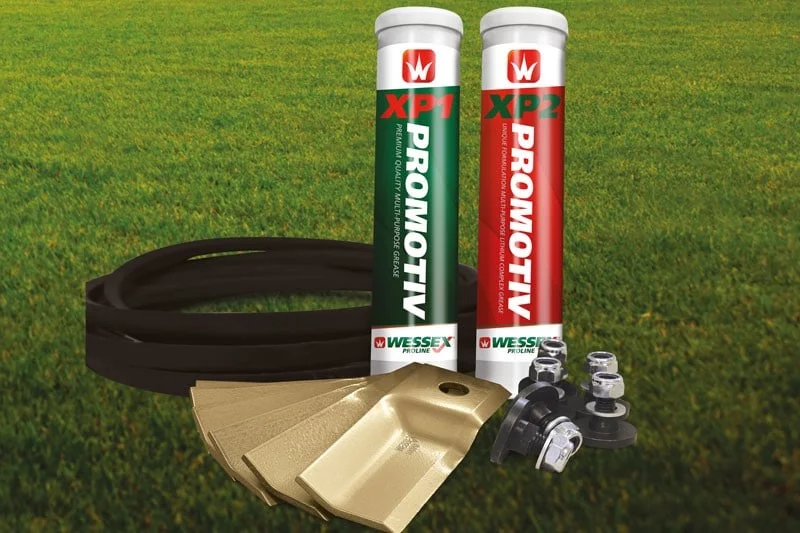 WINTER SERVICE KIT
Regular maintenance is essential to maintain optimum performance from your machine. The Winter Service kit includes GoldCut blades, fixings, drive belts and ProMotiv grease.
Book a Demo / Request a Quote
Please submit your request for a product demonstration, and we will call you back to arrange a suitable time.
Menu